Stainless Steel Safe Cut Can Opener
No more SHARP EDGES to hurt your fingers on!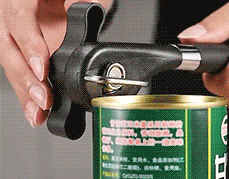 Stainless Steel Safe Cut Can Opener has a revolutionary design that self-attaches to cans, making opening and lifting lids easy and fun! Applies side-cutting blade to rim edges, leaving smooth & safe edges.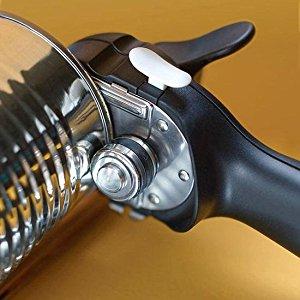 Open cans in a hygienic way - Stays clear of food inside the can and never touches the contents of the can because it cuts on the outside!
FEATURES:
Smooth, Safe Edges after Cutting
Cuts & removes can's lid efficiently from the side leaving smooth, clean edges - No more jagged sharp edges! Smooth lid edge keeps your fingers safe. Safe to use for adults and even children.
Easy to Use
Long ergonomically designed handle allows the non-slip, easy turning knob to twist with little effort. You can open cans in an effortless, fast and simple way.
Premium Material
Made of 100% food-grade, gear-driven stainless steel blade. Durable, rust-resistant and not easy to break.

Portable & Lightweight
Easy to carry when you are traveling or camping! Able to open all kinds of round/ oval cans. Compact and smart design makes can opener a perfect fit for your kitchen drawers and cabinets.
Keep Canned Food Clean
The cutting wheel will not touch the food and the lid can be put back into the can without falling into the can to keep the canned food clean.

Easy to clean & dishwasher safe
DIRECTIONS: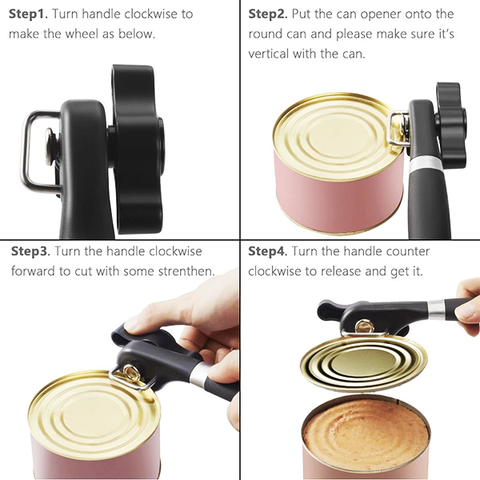 SPECIFICATIONS:
PACKAGE INCLUDES:
1 x Stainless Steel Safe Cut Can Opener