Ever had to go around your kids playroom picking up hundreds of pieces of Legos or other small toys?

Make playtime a breeze with the Hirundo Toy Storage Bag Toy Storage Mat. It doubles as a play mat and a toy storage bag, meaning your kids can play on it while keeping the mess contained and then just pull the string to clean, close, and store!
USAGE:
To use it, just open it up and let you kids play with their building blocks and toys on or around the mat. It opens up to become a large circle where they can hopefully contain their toys.
Once done, just pull the drawstring, which will fully enclose all the toys, and it'll then become a handy bag that you can throw over your shoulder to transport anywhere quickly.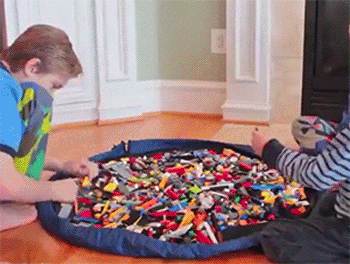 Features:
Quick and simple:

 

Allowing your kids to play for hours, and cleanup in seconds will not only make your life easier, but also your kids! They'll no longer dread that time when playtime is done and it's time to pick up all their toys and cleanup their playroom! 
Multiple functions: This toy storage bag comes with shoulder straps so you can comfortably wear it as a backpack, plus there's four mesh pockets so you can store more than just toys inside of it. 
Washable:

 

The toy storage bag is machine washable if it gets dirty. It is made from poly-ripstop on the inside along with poly material on the outside, and measures 44 inches in diameter when opened fully flat.
Size:

 

Large - 150 cm diameter
                   Medium - 100 cm diameter
                   Small - 45 cm diameter
Package Includes:
1 × Hirundo Toy Storage Bag-Quick Finishing
Brand Hirundo® Warranty Policy And Customer Assurance - 100% Customer Satisfaction GUARANTEED refund for 60 days if the product is not as described or if there are any quality issues!