This awesome Hirundo®  Knot Out Electric Pet Grooming Comb gets rid of your dog knots without causing them pain or discomfort!
The comb features recessed rolling blades behind the bristles.
When you hit a knot simply press the button to cut through it!
The ultimate pet grooming tool that safely combs and cuts tangles and knots.
Great for all dog and Cat breeds.
Features:
Remove knots and tangles instantly from your pet's hair without pulling, pain, or stress.
The electric rotating blades remove knots with the touch of a button.
Knot Out grooming tool gently massages your dog or cat while keeping the blades safely away from the skin.
Replaces old brushes, groomers, and supplies with one mobile tool.
So effortless to use and easy to clean it will become your favorite pet hair removal tool.
Product Information:
Size: 26.5*14.5*5 CM
Weight: 300g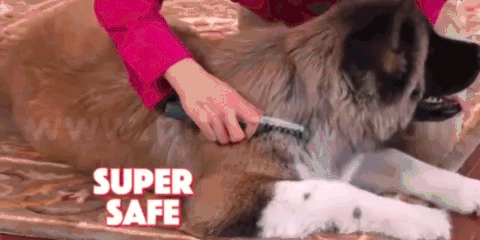 Package Include:
1 x Knot Out Electric Pet Grooming Comb
Battery not included in order (Needs 4 AAA batteries)