It is difficult to expend the time and costs of visiting doctors who practice massage, which stimulates the slimming reflexes. That's why our Hirundo Acupoint Fat Burning Slimming Insoles is a great idea: a slimming medical insole which you can wear in any shoe and which automatically stimulates the trigger points for beneficial weight loss both while walking and standing.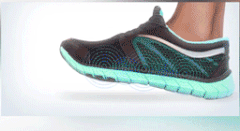 These Hirundo Acupoint Fat Burning Slimming Insoles are made of flexible plastic inserts that combine acupressure, reflexology, and magnets to provide gentle and effective stimulation to the feet. When walking in reflexology insoles, your feet massage themselves!
FEATURES:
Seven Strategically-placed Magnets

 

and raised nodes stimulate reflexology points,

 

alleviating

 

mild to moderate foot discomfort and rejuvenating the entire body.

These slimming magnets emit magnetic waves which

 

Weaken fat cells in your body.

Lose weight by walking with magnetic insoles.

Help Increase blood circulation

 

to the feet and provide soothing pain relief.
Raised areas give arch support while 250 air holes provide ventilation, keeping feet cool.
Use them at least 1 hour a day to see the effect.
SPECIFICATIONS:
Free Size (25cm and 27.5cm)
M: For 35-40 (25cm)
L:  For 40-45 (27,5cm)
*Cut the shoe pad to fit yourself if necessary.
PACKAGE INCLUDES:
1 pair x Hirundo Acupoint Fat Burning Slimming Insoles