Suffering from BACK PAIN, KNEE PAIN or MUSCULAR DISORDER? You are properly having anterior pelvic tilt!😫😫
Rotated and lateral pelvis can lead to severe pain and pressure to your lower back, hip and legs. But with Hip-Up Pelvis Correction Belt, you can now easily deal with anterior pelvic tilt!😎😎
Hip-Up Pelvis Correction Belt is designated to relieve hip and back pressure caused by anterior pelvic tilt and apply posterior and anterior pelvic correction to back pain sufferer.
🎀The strong dual-tension belt provides a stable support and even compression to imbalanced pelvic ring, so as to effectually correct misaligned pelvis and eliminate symptom of: 
Sacroiliac SI Joint inflammation
Hip and Back Pain; Sciatica
Pelvis and Tailbone Injuries
Lumbosacral Instability
Arthritis and Trochanteric (hip) Bursitis
🎀The adjustable intense straps also apply flawless tummy shaping and hip-lifting effect to your body, with all bumpy fat deposits eliminated. Especially suitable for POSTPARTUM SHAPING.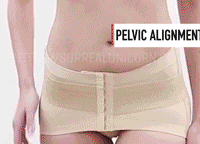 Features:
Reduces pelvic joint & ligament inflammation & pain
Corrects pelvic tilt for proper alignment & posture
Instantly lifts & supports buttocks against sagging
Flattens tummy for a smooth & slim look
Gradually reforms bow legs & other curvature 
8 loop-and-hook fasteners with 3 adjustment scale for perfect fit
Breathable & moisture wicking fabric
Specifications:
Size: S-3XL
Color: Beige, Black
Size Chart:
Note:
Package included:
1* Hip-Up Pelvis Correction Belt