😘Let your little one enjoy bath time!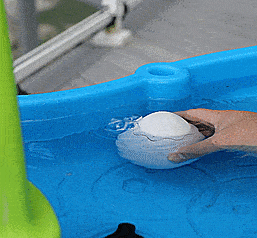 Bath time is already pretty adorable - your little tyke splish splashing around - but it can be even more adorable and fun when this little hatching duckling comes to play too. Just toss the egg into the tub, submerge him, and watch him hatch as he fills up with water - peek a boo! Your little one will want to soak for hours playing with this little hatchling.🐣
🐣PRODUCT FEATURES:
Durable - This bath toy set is made of high quality child-friendly materials and is durable enough for your child.
Safe - This baby bath toy has a very smooth surface, protecting your kids from harm.
Cute outlook Design - best bath toys for little boys and girls of 12 months and up, suitable for bathroom and swimming pool play.
Good for children's intellectual development - Elaborate craft bath toys to stimulate children's fine motor skills and thinking skillsPerfect squirting bath toy for your kid's grasping sense development, interest cultivation, intellectual development, etc. Just get this fun bath toy and let your little angel love bath from now on.
🐣Want to have a bit of cheeky fun with this hatchling? When the egg is full of water hold the duck and press down on his top shell - he'll squirt a bit of water out of his beak!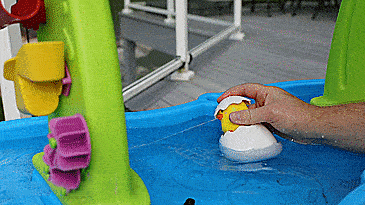 🐣When the egg is closed it will simply float and bob around the tub (or pool!) waiting for its moment to hatch. With this egg, your little one can watch this little duckling hatch over and over again, allowing for hours of bath time fun.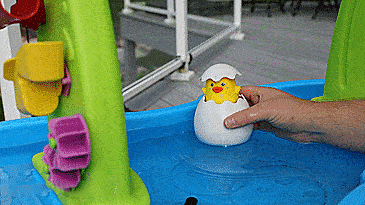 🐣This little bath toy comes in two color choices: yellow duckling or black and white penguin nestling.
How Does This Hatching Duck Work?
Physics! As the water fills the egg up, the hatchling and top portion of the shell become buoyant which is how it slowly hatches. When you lift the egg out of the water and the water rains out, the hatchling will slowly go back in his shell as water level falls.
🐣SPECIFICATIONS:
Material: 

Environmental-friendly ABS

Color: 

yellow duckling, black and white penguin nestling

Weight: 100g
Suitable age:

Bath toys are suitable for bathroom and swimming pool, best bath toys for little boys and girls of 12 months and up.
🐣PACKAGE INCLUDES:
1 or 2 * Hatching Duckling Spray Bath Toy