This Grout & Tile Marker Repair Pen ink formula is water based and covers over stained areas that are caused by everyday mould and dirt build up on grout between tiles. Not only does this product restore the grout's look it also helps prevent further moulding with its anti-bacterial formulation.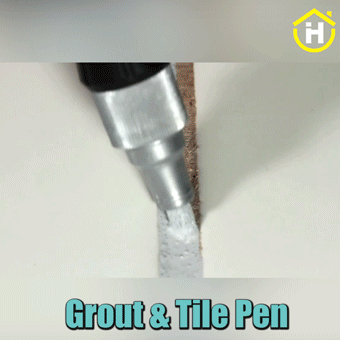 Features:
Dries Quickly-Grout Pen dries quickly to cover like permanent, water-resistant paint.
Change Colored-You can even use it to change colored grout to white.
Anti-bacterial formula-It helps keep mold from returning.
Nontoxic and odorless- no ventilation required.
Looks Beautiful-Makes old grout look better than new instantly.
Anti-bacterial agents-It helps prevent mould from re-appearing.      
Specification:
Material: ABS
Color: White
Size: 1.8 x 15cm/0.7 x 5.9inch (D x H)
Net Weight: 7.4mL/0.25fl.oz
Application: Floor
Occasion: Home, Kitchen, Bathroom, etc
Package Include:
1*Grout & Tile Marker Repair Pen