Want to have fun with your friend and family?
Fun and simple color-matching cup stacking game that challenges you to think and react quickly – beat your opponents to the bell! Each player gets 5 cups – Red, Blue, Yellow, Black, and Green, and you have to match the arrangement of the colors with the colors on the picture card!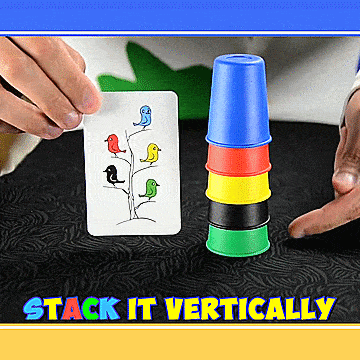 FEATURES: 
 

EASY TO PLAY:

 

Game Rule is to stack 5 colored cups in an order which is matched with the picture. After doing this ring the bell and you have gained a point.

 

A LOT OF FUN:

 

This game can be played between 2-4 players and age of players should be above 6 Years. You can also play with your family and friends.

 

EASY TO LEARN:

 

Easy to learn, but you have been ready and focused to stack your cups better and faster than everyone else to WIN! Follow the pattern, match 'em, stack 'em, and ring the bell! The first one to ring the bell wins!

 

ENJOYABLE TIME:

 

It's a simple, but amazing and moderately challenging game for your whole family. No matter who wins, you'll all end up fully engaged, moving rapidly and laughing non-stop!
SPECIFICATIONS:
Package Includes: 6 cups in five colors + 24 cards + instructions+ 1 Bell