Economical, eco-friendly, and useful tool to have, Plastic Bottle Cutter is going to change the way people look at recycling.
Whether it is for handy and DIY purposes, for creative uses and arts & crafts, or practical life, the plastic ropes that you can turn plastic bottles into can be extremely useful.
Product Features:
With this portable intelligent tool, you can easily make any plastic bottles, such as cola, fruit juice, soda water bottles into a plastic rope perfectly. Not only plastic bottles, it is also suitable for cans, patatochips jars and etc, meeting all kinds of novelty and crazy ideas of yours.
Reuse and recycle plastic bottles of all kinds, turning them into convenient universal handy ropes, changing the way of recycling. Or as the material of 3D printing.

Economical, eco-friendly, and useful tool to have in case of an emergency. 

DOMOM Creative Plastic Cutter is also made with eco-friendly materials. It is very resistant, easy to keep, carry or store, and it can be your long-lasting strategic ally to turning plastic bottle problems into smart plastic solutions.

Great for home use.

The rope can tie old items and different colors of bottle ropes can decorate our garden.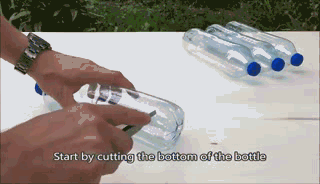 Specifications:
Application: Cut any plastic materials like PET, HDPE, PP, etc. Even CANS!
Material: Wood + Metal
Size: Approx. 14 * 2.2 * 2.2cm
Weight: 75g
Package Includes:
1 x DOMOM Creative Plastic Cutter
Know more about our brand: 
Click here 👉 DOMOM
Brand DOMOM
®
Warranty Policy And Customer Assurance - 100% Customer Satisfaction GUARANTEED refund for 60 days if the product is not as described or if there are any quality issues!