🔥MULTI FUNCTIONAL DETACHABLE RIVET GUN IS NOW HERE!🔥

Want to drill and pull rivets more quickly and effortlessly?
The
Detachable Rivet Gun
, which works with the electric drill, is a
high-quality
professional tool
used to
fasten
all kinds of
sheet metal, pipes
in areas of the manufacturing industrial fastening, home repair, installation, and repair services.
INCREASE PRODUCTIVITY: Ensures high productivity and improve your return on investment with very low installation cost
PRODUCT PARAMETERS:Light weight: 1.1 lbs; Nozzle Size: 3/32", 1/8", 5/32" and 3/16" ; MAX RPM: 1000 RPM; Min Torque Strength: 15N.m; Aluminum: 2.4mm-4.8mm; Steel: 2.4mm-4.0mm
IMPROVE EFFICIENCY:The rivets do not drop out.Quick release and installation,excellent ergonomics, great strength and great added features
CONVENIENT & LABOR SAVING:Contrasted with the traditional riveter,the insert nut makes tasks so easy when connected with drill,reducing user fatigue
WIDE USE:Compact size and weight for areas of the manufacturing industrial fastening. Applicable to all kinds of sheet metal, pipes. Reduced user fatigue.(SUGGESTION:PLEASE ADJUST THE DRILL TO MAXI TORSIOIN AND LOW SPEED FOR LONGER SERVICE LIFE.)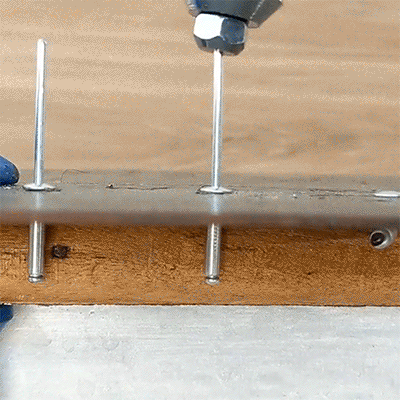 Technical Data:
1. Pick the right size opening for your rivet, there are 4 to choose from.
2. Attach the tool to cordless drill.
3. Hold the tool, before it starts to grab the rivet, hit reverse on your drill until you feel click. The rivet can be fitted in once the teeth widen. Put the rivet in the tool and slowly hold the handy part of the tool and pull the drill trigger, when you feel it start to grab the rivet.
4. put it in the hole that you wish to rivet and keep holding the handy part and hit the drill at full.
5.Once the rivet pops, keep holding the handy part of the tool and hit reverse on your drill.
6. The teeth will widen and the old rivet shaft will drop to the ground. Put your drill back in the forward position and rinse and repeat.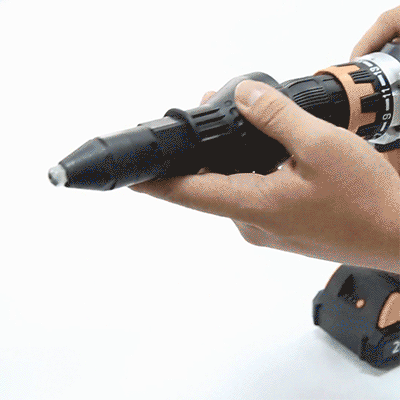 FEATURES:
MULTIFUNCTIONAL: This rivet gun can be combined with various types of power tools.
IMPROVE EFFICIENCY & LABOR SAVING: Quick release and installation. With the power of drill, you can drill, pull rivets and screw quickly just pull the trigger and don't waste a rivet.
RICH ACCESSORIES: 4pcs Nozzle size are 3/32", 1/8", 5/32" and 3/16". They applied to different sizes of rivets
LOWER NOISE: Built-in anti-noise system to protect your ears and reduce the drilling damage from noise
LONG LIFE: All metal construction designed internal and ABS engineering plastic cover.
SAVE SPACE: Small size takes up less space in the toolbox than hand riveters
Package Includes:
1 x Detachable Rivet Gun Set