Our Bath Overflow Drain Cover seals securely around your overflow drain to safely increase the water depth. The result? A warmer, deeper bath you can sink into.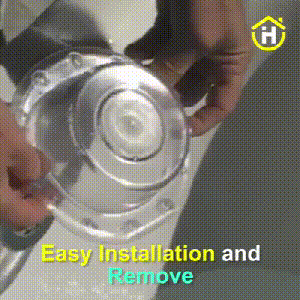 FEATURES:
An easy way to increase the depth of your bath water safely.

Adheres with suction cups to seal securely around overflow drain.

4" diameter with a 2" depth. Fits over common overflow drains: toggle/trip lever, flat, or snap drain types.

Easy to clean: just rinse and air dry or toss it in the top rack of the dishwasher.

Mildew resistant, soft and flexible design.
More Reasons to Use a Tub Overflow Cover:
Stop listening to water trickle down the drain!

Unlike drain cover plugs, the Bottomless Bath essentially moves the overflow drain "up" a couple inches rather than completely blocking it.

Helps you relax and create a spa-like experience in your home.

Twelve suction cups surround the Bottomless Bath's perimeter to keep it in place over your overflow drain cover. Be sure to run warm water over the suction cups and press each suction cup firmly against your tub's surface to seal.
SPECIFICATIONS:
Size:

4 x 4 x 2 inches

Weight: 0.22 lbs
Package Includes: