🌼The Baby Feeding Set Spoon and Fork 🌼is perfect for self-feeding or for parents introducing solids to their little ones for the very first time.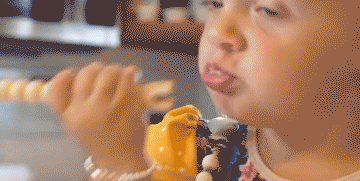 The Baby Feeding Set Spoon and Fork features a fork on one end and a spoon on the other.  The shallow spoon offers children of all ages just the right amount of food.  The rounded nature of the fork is safe and aids in picking up difficult foods.  The fork side can be used to both scoop and softly stab food. Additionally, food-grade silicone offers a non-slip grip, is gentle on tender gums.  The easy grip handle helps to aid in transitioning from an early grip (radial transverse Palmer grasp) to an adult utensil grip. The Baby Feeding Set Spoon and Fork promotes the development of fine motor skills through self-feeding and independence, but it is also great for babies being introduced to solids for the very first time. 
Made with 100% food grade silicone.  Free of BPA, PVC, phthalates, and latex. FDA approved.  Non toxic.  
Before first use, remove product from packaging, wash with soap & water.  Let air dry.  Dishwasher safe, top rack only.  Inspect before each use.  Discard if damaged.  Do not use without adult supervision.  Color foods, dyes, and/or other liquids may cause discoloration and staining.
🔖PACKAGE INCLUDED:
1x Baby Feeding Set Spoon and Fork( Set Of 3 )