ANTI MATTING COMB

🐶
Features:
OUR COMB WORKS. PERIOD.
Goes through knots like a hot knife through butter. Long teeth penetrate deep into the undercoat while the short teeth collect loose hair
PAIN-FREE DEMATTING COMB FOR DOGS
Scared to use grooming blades, scissors or knives to cut matted fur when grooming your dog at home? No worries, comb QUIETLY QUICKLY & EASILY chops up clumps of matted hair.
PREVENT PARASITES
Matted fur is damaging to your dog's skin as it prevents oxygen and moisture from reaching his skin. Also, the clumps of fur put pressure on the skin, weakening it. Mats also can become a breeding ground for parasites.
ULTRA DURABLE STAINLESS STEEL TEETH
Made out of stainless steel, the bladed teeth of our dematting comb for long haired dogs & animals are strong enough to last a lifetime. It's the best de-matting comb for cats & dogs that pro groomers & pet owners trust.
USED BY PROFESSIONALS
The number one choice by professionals
SEE WHAT OTHERS ARE SAYING:
"This comb works wonders!!! I have an extremely long hair wolf shepard mix. His topcoat is 6inches+ long and he has an undercoat built for the arctic. I have never seen a comb work so well on his fur before! This is not an ordinary comb, the teeth are more like blunt-tip blades that slice through the hair removing all tangles. The thumb rest ensures you comb at the right angle"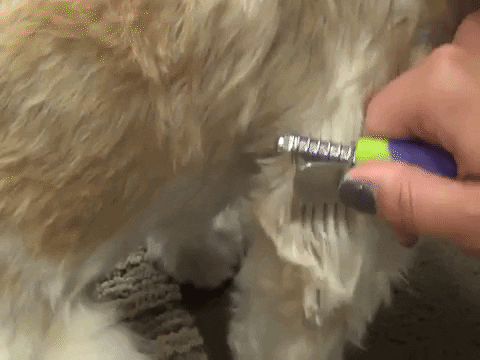 Specifications:
Material: Metal
Weight: 160g
Color: Red
Size: 20 * 13.6cm
Usage method:
Sooner or later, leave room to hold the knotted hair, and then gently comb the remaining part with an open knot comb
In case of induration, do not use excessive force to avoid pulling off the villi. Instead, hold down the hair root and comb it again
The fluff is easy to break when it meets the edge, and the force should be measured when combing
To remove knots as early as possible, they may need to be cut short as a whole when they become hard
Package includes: