This gadget serves on your kitchen as a colander, defrosting bowl and a serving dish. It saves your time and water.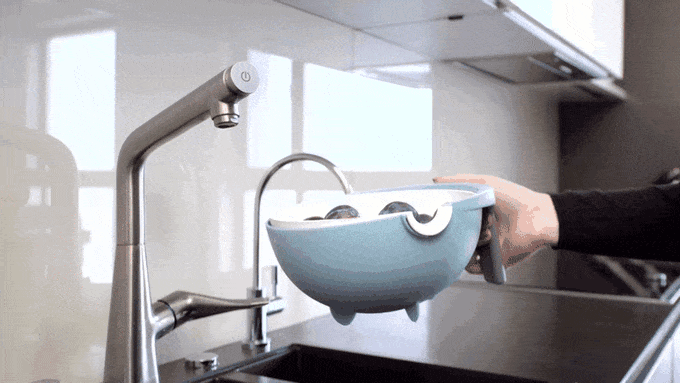 Nothing…and I mean nothing is as frustrating as watching the freshly-cleaned vegetables and fruits you just rinsed fall into the sink AFTER you've rinsed them. Even worse, if you don't have a good grip on your items, they can ALL fall back into the sink – taking your sanity with them.
FEATURES:
The colander reduces the amount of water needed to wash your fruits and vegetables by 60% - all while removing twice as many contaminants! You will never have to worry about items in the sink again because this design saves you time and frustration.
Its ergonomic design keeps the vegetables upright and safe as the water bowl drains the dirty water away, cleaning your foods and keeping your clean items safe from spillage.
The colander also serves as a great serving dish for you.  You don't have to worry about using more dishes than necessary just because you need something to put them in afterwards.  Drain the excess water from your vegetables - and serve your fruits or salads in the same dish.
Trying to defrost something at room temperature turns into a huge problem for most cooks.  Water often winds up all over the counter creating an even bigger mess, and more work for you.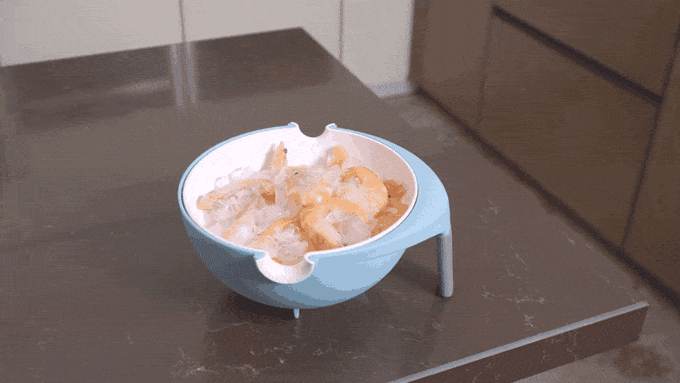 With typical colanders, lots of dirt and other contaminates can transfer to your clean serving dishes.  But with the colander, its washing machine motion helps remove 90% of the dirt and bacteria from your foods – giving you a healthier, more nutrient rich meal!
As you can see, this colander saves you time and energy.  It's also incredibly efficient, sanitary, and environmentally conscious.  Moreover it saves extra money on your water bill.
This colander has a very well considered hole slots pattern that allows to drain the excess water fast and simple. Colander Bowl is made from a high quality polypropylene which is an unharmful material to dine from. Colander Bowl design has a special spin system which uses the force of gravity to speed up all kitchen tasks.
PACKAGE INCLUDED:
1 X Water Saving Balanced Colander