Entry-level, Basic, Simple and Nicely Made for Both Indoor and Outdoor Use
What do you picture when you think of a drone? A solitary, remote-controlled toy with propellers or perhaps a large, unmanned aircraft? Here, those images could be quite different: drones are becoming smaller, camera-equipped and deformed on their own to act as running toy motorcycles.
🚗FEATURES:
One-key Take off and One-key Landing: Easily control aircraft flight and landing.
WiFi camera: 0.3MP WiFi camera cases an access to the real-time FPV and all functions.Shooting and Filming:In ideal environment of light,trigger shooting or filming what you favorite video or photo.
Headless Mode: Allows you to ignore the front of the drone and pilot it freely
Emergency Stop: Click Compatible For emergency stop in flight.
H6 features the foldable arms and you can change it from RC drone to motorcycle.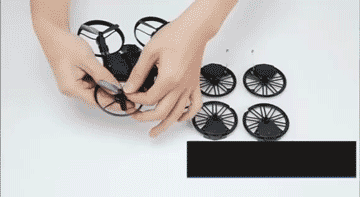 🚕SPECIFICATIONS:
Color: Blue
Material: ABS Plastic
Size:
RC Drone: 17.1x15.1x6.6cm
Motorcycle: 17.1x9.5x7.2cm
Charging time: 60min
Use time: 6 min
Remote control distance: 80m
Pixels: 0.3MP
WIFI control distance: 40m
Watch Battery: 3.7V 150MAH
Product Battery: 3.7V 550MAH
Remote control Battery: 4x AA batteries(not included)
🎁PACKAGE INCLUDED:
1 x RC Drone, 1 x Watch Remote Control, 1 x Manual, 1 x USB Cable For Watch, 1 x Screwdriver, 1 x USB Cable, 2 x Propellers, 4 x Wheel, 1*Rechargeable Lithium Battery
1 x RC Drone, 1 x Remote Control, 1 x Manual, 1 x Screwdriver, 1 x USB Cable, 2 x Propellers, 4 x Wheel, 1*Rechargeable Lithium Battery
1*Ordinary Remote With 300,000 Pixel WIFI Camera🛵
1 x RC Drone, 1 x Remote Control, 1 x Manual, 1 x Screwdriver, 1 x USB Cable, 2 x Propellers, 4 x Wheel, 1*Rechargeable Lithium Battery