The best gift for those who like to cook!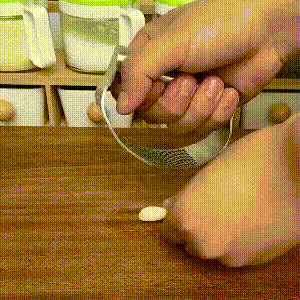 Have You Purchased Other Garlic Presses in the Past?
Maybe you have encountered some difficulties, such as being difficult to use, difficult to clean,bad quality,taking a long time, etc.
Choose our garlic press and say goodbye to these troubles!
FEATURES:
This new garlic press with an arc shape, comfortable handle design makes squeezing a breeze, even for those with weaker grip or small hands.

Crush And Mince Garlic Easily - With a slight back and forth rocking motion, easily crush or mince garlic, ginger, and onion in half the time!
Made of modern stainless steel material, turns a messy task into effortless mincing.

Crushed garlic pushes through perforations to easily spoon into the soup.
SPECIFICATIONS:
Material: 430 S

tainless Steel

Size: